2.7.2019: Family Cooking & Nutrition Workshop
@ Waitrose Cookery School, London
Come & join us for a family friendly cookery class with a difference. Not only will you be able to take part in a hands on cookery class, as a family, you will also be joining a fun, interactive family nutrition workshop tailored to parents who want to know exactly what they should be feeding their children & families hosted by Paediatrician and Nutritional Therapist - Dr Venita Patel.  There will be guidance on the important nutrients for different stages of growth and development as well as advice on how to encourage children to eat a wider range of foods.
There will also be discussion of foods to avoid or reduce for your child's long term health, & how to achieve a healthy balance. Dr Venita will be giving interactive games & activities for the children to go alongside this information.
The cookery class will help reinforce the learning.  We hope to encourage children to get creative in the kitchen, enjoy cooking & learn a few recipes they can recreate at home. In particular, the emphasis will be on healthy, quick and easy recipes incorporating as many fruits & vegetables as possible.
17.6.2019: Indian Food Made Easy
@ Waitrose Cookery School
Have you ever wanted to cook up a delicious curry but thought that it would be too difficult or time consuming? Are you interested in quick, easy, healthy and, most importantly, delicious recipes?
Join me for a cookery class with a difference where we will learn how to make the menu below and enjoy the fruits of our labour together over a glass of wine.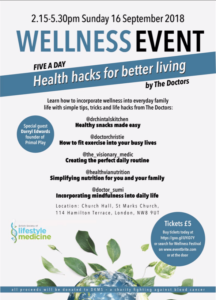 16.9.18: Wellness Festival
A charity event to educate and empower the public to wellness and health hacks for better living in this modern day busy environment.  I hosted the 'healthy snacks' workshop.  This involved an interactive workshop and Charity event supporting DMKS (A Blood Cancer charity)
8.3.18: International Women's Day
An evening to celebrate 'Women doing Epic Sh*t'  Panelist and caterer for canapes.
25.1.2018: Food 4 Food
A Supper club in aid of help the homeless.
30 covers. 3 Course Vegan themed meal. (A charity close to my heart and I volunteer for the Quaker Homeless Shelter every year) Watch this space for my next supper club... coming soon!