27.1.2020: Children's Weaning Workshop
@ Waitrose Cookery School, London
You are invited to join us for an interactive master class on weaning made simple and easy to digest by Annabel Karmel and Dr Chintal Patel  
Our aim is to give parents the knowledge and confidence to get them to give their little one's the best start in life and to encourage healthy relationships with food from first foods and beyond.  We will address the truths and myths of weaning.  Finger foods - how and when to introduce them at different stages of development.   We will also end with a choking and basic first aid workshop.
This will be followed by a hands on cooking class making some recipes from Annabels new book, weaning made simple. 
EARLY BIRD RATE UNTIL FRIDAY 10th JANUARY 2020
1.2.2020: Practical Prescriptions for lower stress & better wellbeing
@ Westminster Kingsway College
Your Lifestyle Doctors presents an afternoon packed with a variety of practical tips and ways to help you lower your stress, improve your sleep and energy, relax, revive and get you back to feeling your best.
You will walk away with your very own personal 'health prescription' to help you achieve your well being goals.
Event Line-up:
Panal discussion with Your Lifestyle Doctors Tea
Nutrition and cooking demo
Move and stretch
Mindfulness and relax session
Write your own 'Health prescription'
2.7.2019: Family Cooking & Nutrition Workshop
@ Waitrose Cookery School, London
Come & join us for a family friendly cookery class with a difference. Not only will you be able to take part in a hands on cookery class, as a family, you will also be joining a fun, interactive family nutrition workshop tailored to parents who want to know exactly what they should be feeding their children & families hosted by Paediatrician and Nutritional Therapist - Dr Venita Patel.  There will be guidance on the important nutrients for different stages of growth and development as well as advice on how to encourage children to eat a wider range of foods.
There will also be discussion of foods to avoid or reduce for your child's long term health, & how to achieve a healthy balance. Dr Venita will be giving interactive games & activities for the children to go alongside this information.
The cookery class will help reinforce the learning.  We hope to encourage children to get creative in the kitchen, enjoy cooking & learn a few recipes they can recreate at home. In particular, the emphasis will be on healthy, quick and easy recipes incorporating as many fruits & vegetables as possible.
17.6.2019: Indian Food Made Easy
@ Waitrose Cookery School
Have you ever wanted to cook up a delicious curry but thought that it would be too difficult or time consuming? Are you interested in quick, easy, healthy and, most importantly, delicious recipes?
Join me for a cookery class with a difference where we will learn how to make the menu below and enjoy the fruits of our labour together over a glass of wine.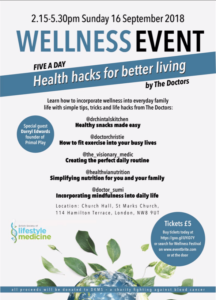 16.9.18: Wellness Festival
A charity event to educate and empower the public to wellness and health hacks for better living in this modern day busy environment.  I hosted the 'healthy snacks' workshop.  This involved an interactive workshop and Charity event supporting DMKS (A Blood Cancer charity)
8.3.18: International Women's Day
An evening to celebrate 'Women doing Epic Sh*t'  Panelist and caterer for canapes.
25.1.2018: Food 4 Food
A Supper club in aid of help the homeless.
30 covers. 3 Course Vegan themed meal. (A charity close to my heart and I volunteer for the Quaker Homeless Shelter every year) Watch this space for my next supper club... coming soon!